Michael Genord, M.D., M.B.A.
President and Chief Executive Officer, HAP
HAP Executive Vice President,
Henry Ford Health President and Chief Executive Officer,
HAP Empowered Health Plan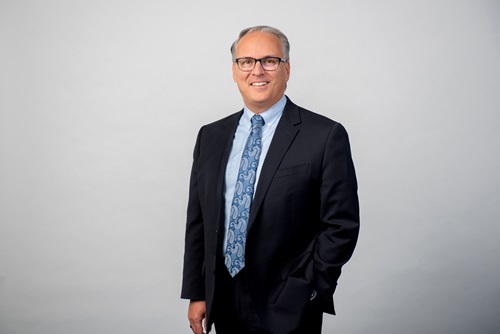 As president and Chief Executive Officer, Michael Genord, M.D brings a critical differentiator to his role as the only physician/CEO of a health benefits company in Michigan. His direct insight into patient care and the complicated issues that physicians and patients often face is not always present when insurance decisions are made. Dr. Genord ensures they are not only present but given careful consideration.
Dr. Genord is responsible for sharing the passion and vision for health care delivery to create a company that always puts members and providers first. Dr. Genord became president and CEO of HAP in 2020. after serving as HAP's senior vice president and chief medical officer. In that role, he led the development and implementation of HAP's medical and operational programs, making him uniquely qualified to step into the CEO position. Dr. Genord also serves as executive vice president of Henry Ford Health, of which HAP is an operating unit. Dr. Genord's dual expertise allows him to bring a broad perspective to the complex issues confronting a provider-sponsored regional health plan, including the effective implementation of value-based health care, which encourages and rewards positive health outcomes for members and patients.
Whether practicing medicine or leading HAP, Dr. Genord has always been conscious of inequities in the American health care system. In his third role as president and CEO of HAP Empowered Health Plan, Inc., he deals with the concerns of individuals who often cannot afford insurance and suffer from chronic health problems. Addressing social issues that affect health – food deserts in urban areas or the lack of transportation to get to medical appointments – is a primary concern and a core component of HAP's community outreach programs. HAP Empowered, a wholly owned subsidiary of HAP, is dedicated to improving and expanding integrated care and coverage for Medicaid and dual eligible Medicare-Medicaid beneficiaries. Dr. Genord is board certified in obstetrics and gynecology and managed a private practice for 17 years. He also served in leadership roles at William Beaumont Hospital and United Physicians Group.
The Flint community remains dear to Dr. Genord. Prior to joining HAP, he was president and CEO of HealthPlus when that company merged with HAP in 2016. He maintains the close ties and relationships he built at HealthPlus by ensuring that a robust community outreach program serves Flint residents and maintaining HAP's long-standing sponsorship of the annual Crim races.
When not working, Dr. Genord is focused on family. Growing up in a large and close family, he is now at the center of Sunday "fun" days when he enjoys cooking for his extended family. A man of deep faith and conviction, he takes seriously his servant-leader role as a physician in a mission-driven organization.
Dr. Genord earned his bachelor's degree at the University of Michigan before turning his academic attention to East Lansing. A proud Spartan, Dr. Genord earned his medical degree from Michigan State University's College of Human Medicine and a master's degree in business administration from MSU's Eli Broad Graduate School of Management. He views the groundbreaking partnership between Henry Ford Health, HAP and Michigan State University Health Care as an exciting opportunity for innovation and influence in everything from medical research to academic training to promoting and providing the highest quality in health care and benefits management.