Vice President, Deputy General Counsel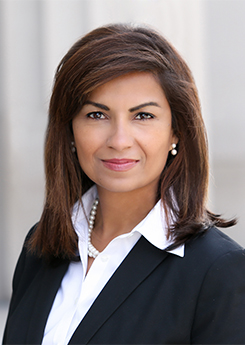 As vice president and deputy general counsel, Archana Rajendra is responsible for providing strategic direction and coordination of all issues related to regulatory affairs, corporate risk, litigation, privacy, public policy, and all other legal matters that impact the business at HAP including managing HAP's in-house legal department and its related functions.

Archana joined HAP in 2019 as senior counsel with more than 25 years of professional experience. Among her many accomplishments, she was instrumental in managing HAP's acquisition of Trusted Health Plan – Michigan, a Detroit-based Medicaid plan, as well as the ensuing integration of Trusted's operations into HAP.

Her well-rounded legal background includes growing multi-state markets; building integrated compliance, risk management and operations teams; building legal operations infrastructure; mitigating risk of class action lawsuits; and serving as an educator in corporate and academic settings.

Prior to joining HAP, Archana was senior counsel at CareSource, a managed care plan based in Dayton, Ohio, and was also a partner at Foster Swift Collins & Smith in Lansing. Early in her career, she managed her own private practice and represented clients in highly regulated industries.

Archana holds a J.D. from Indiana University School of Law and a bachelor's degree in psychology from Michigan State University. She serves as a member of the Michigan Chamber of Commerce Diversity, Equity and Inclusion Taskforce and is a champion of DEIJ efforts.