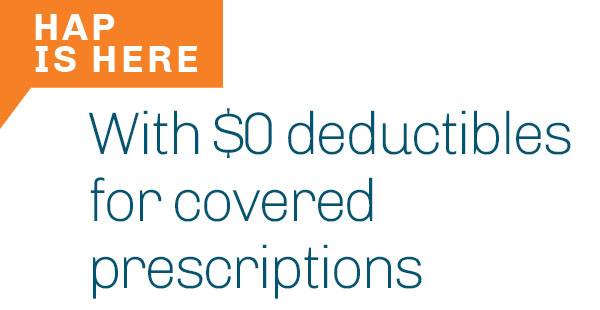 Most HAP Medicare Advantage Plans include prescription drug coverage (or Part D) and a $0 annual prescription deductible. Other highlights include a $0 copay for Tier 6 preventative vaccines during the initial coverage stage and coverage GAP stage; a $0 copay for Tier 1 drugs purchased at a preferred pharmacy; and, a $0 copay for a 90-day supply of most Tier 1 and Tier 2 drugs purchased from a preferred mail order pharmacy.
HAP is participating in a voluntary CMS model that enables us to lower our members' out-of-pocket costs for select insulins. Members will pay no more than $20 to $25 for a 30-day supply of select insulins during all Part D phases until the catastrophic level is reached. This benefit applies to select insulins on Tier 3 of the Part D formulary (examples are: Novolog, Novolin, Lantus and Toujeo).
Note: This Part D Senior Savings Model is offered on all individual Medicare Advantage plans with Prescription Drug coverage for beneficiaries who do NOT have "Extra Help." HAP Empowered Duals (HMO SNP) and employer groups are not enrolled in the SSM.
Find out if you qualify for Extra Help with prescription premium costs.
Compare prescription drug benefits and costs
If your medication is covered by your Medicare insurance, you can use our online tool Express Scripts to compare prescription drug benefits across different plans. You also can compare plan options against current medication costs to choose the plan that best meets your needs. To use Express Scripts and see if your medication is covered, select your plan type below:
Medicare Advantage Plans
HAP Choice Medicare - West Michigan Option 1 (HMO)
HAP Choice Medicare - West Michigan Option 2 (HMO)
HAP Empowered Duals (HMO D-SNP)
HAP Primary Choice Medicare (HMO)
HAP Senior Plus (HMO)/(HMO-POS) Options 1 & 2
HAP Senior Plus (PPO) Options1, 2 & 3
HAP Senior Plus (PPO) Option 4
HAP Senior Plus Henry Ford Tiered Access (HMO)
Will my medication be covered?
If you're shopping for a Medicare plan, you're probably wondering if your insurance covers your prescription medication. The easiest way to tell if your medication is covered is to download the HAP Medicare formulary (PDF)Press Ctrl+F (Command+F for Mac) and type in the name of the drug to see whether it's included in the covered drug list for your type of plan. The drug name will be highlighted.
Your Medicare Part B (Medical Insurance) does cover some outpatient prescription drugs under specific conditions. Learn more at Medicare.gov.