DETROIT - Restoring positive conversations about civil rights was the focus of HAP's MLK Day service project with the Black United Fund of Michigan. On Monday, Jan. 15, BUF and HAP facilitated a cross-generational roundtable that explored the perceptions, accomplishments and challenges of Dr. King's civil rights advocacy. More than 200 people attended.

The BUF 2018 MLK Day Celebration at Greater Grace Temple in Detroit brought together high school students and baby boomers, along with HAP employees, to discuss how Dr. King's work is being communicated today. Facilitators began by asking all participants: Is Dr. King's Legacy in jeopardy of being forgotten or will it inspire change for the next generation? Results of these discussions can be viewed at hap.org/MLKday and on BUF's Facebook and Twitter channels.

"Giving back to communities across Michigan is at the heart of HAP's mission. Through volunteering, donations and sponsorships, HAP proudly supports the local communities where business is conducted," said DeAndre Lipscomb, vice president of marketing and community outreach for HAP. "HAP has supported BUF for years through its community giving program, but this is the first time the two groups have collaborated for an event."

HAP's metro Detroit MLK Day service projects included HAP volunteers serving lunch and dinner at Oasis Soup Kitchen, volunteering at the Turning Point Resale shop in Mt. Clemens, and, in Flint, sorting donations at Carriage Town Ministries and serving meals at the North End Soup Kitchen.

"We are delighted that HAP is supporting our efforts with this year's MLK Day celebration. We are grateful for the leadership of HAP continues to exhibit through its commitment and vision for our community," said Kenneth Donaldson, president and CEO of BUF of Michigan. "We recognize the value the older and younger generations bring to our community. Dr. King would be proud to see us come together to help one another."

Hannan Center representatives recruited senior citizens and students from the Detroit School of Arts to participate in the event. They also provided training sessions to help participating students prepare for the roundtable discussions.

Detroit School of Art students provided entertainment for all attendees. Entertainment included inspiring song selections performed by a student-led orchestra, jazz band and vocalists. Student dancers also illustrated the celebratory mood. Detroit Arts High School honor student Miracle Craft served as the event's emcee.

This celebration commemorates the timeless values of courage, truth, justice, compassion, dignity, humility and service Dr. King embodied.
About BUF of Michigan
BUF of Michigan is committed to impact positive changes in a diverse community by providing funding and support to non-profit community-based programs and organizations that focus on education, community development, cultural enrichment and economic improvement. More information about the program and other BUF community events are available at bufmi.org.


About Health Alliance Plan
Health Alliance Plan (HAP) is a Michigan-based, nonprofit health plan that provides health coverage to individuals and companies of all sizes. For more than 50 years, HAP has partnered with leading doctors and hospitals, employers and community organizations to enhance the health and well-being of the lives we touch. HAP offers a product portfolio with six distinct product lines: Group Insured Commercial, Individual, Medicare, Medicaid, Self-Funded and Network Leasing. HAP excels in delivering award-winning preventive services, disease management and wellness programs, and personalized customer service. For more information, visit hap.org.
###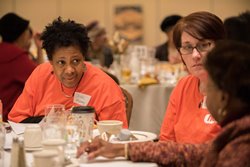 Editor's note: Additional information from the 2018 BUF MLK celebration may be viewed at hap.org/MLKday.
Media Contacts
Ebony Dooley
Health Alliance Plan
(248) 443-7847
edooley@hap.org

Marc Perry
Black United Fund (BUF)
(248) 914-1734
marcperry411@gmail.com