With a HAP HMO plan, you'll get world-class care through a network of leading doctors and hospitals.
What is an HMO?
An HMO is a type of health plan where you receive care within a specific network of doctors and hospitals. With an HMO plan, you pick a primary care physician, also known as a PCP, who is part of that network. Think of your PCP as your point person. He or she provides and coordinates all your basic health care services. You also can see a specialist at any time as long as they are in your network. Your PCP will help you choose one.
With a HAP HMO plan, there may be times where your doctor requires a referral. Or you may need to have a procedure that needs to be approved by HAP before you have it done. But what's the difference between a referral and prior authorization?
Referrals
HAP doesn't require you to get a referral to see a specialist in your network for an initial consultation. However, the specialist you visit may require a referral from your primary care physician. The schedules for certain specialists get filled months in advance. They may only accept patients whose primary care physician believes the patient needs specialty care.
Example:
Mary suffers from chronic sinus infections several times a year, so she wants to see an ear, nose and throat doctor. She schedules an appointment with the specialist within her network.
HAP doesn't require a referral for Mary to see this doctor.
The doctor's office may require a referral from Mary's PCP. This isn't a HAP requirement. HAP doesn't have any involvement in the doctor's request.
Prior authorization
HAP wants to make sure you get the best possible care. Sometimes specialists may suggest procedures we don't feel are the best course of action for you. That's why we want you to check with us so we can help manage your care. This process is called prior authorization. Your PCP will request prior authorization from HAP on your behalf.
Example:
When Mary visits the ear, nose and throat doctor for the first time, she pays her specialist office copay. After her consultation, the ENT recommends a sinus surgery. Before Mary has surgery, the ENT's office must get prior authorization from HAP to make sure the service is covered and medically necessary.
For hospital stays
For inpatient hospital stays, your doctor will get prior authorization from HAP. Emergency room visits don't require prior authorization.
Coverage that travels with you
With worldwide coverage for emergencies and urgent care, plus an emergency travel assistance program through Assist America, you won't have to worry when you leave home. No matter where you go, urgent care and emergency services are covered if you get sick or hurt.
Network
Members can seek care through our HMO network in Michigan. With 1000s of doctors, the chances are yours is one of them.
HAP service area
In addition to worldwide emergency and urgent care coverage, you can seek care in any of the following counties which form the HAP service area:
HMO Ford Hourly Service area Network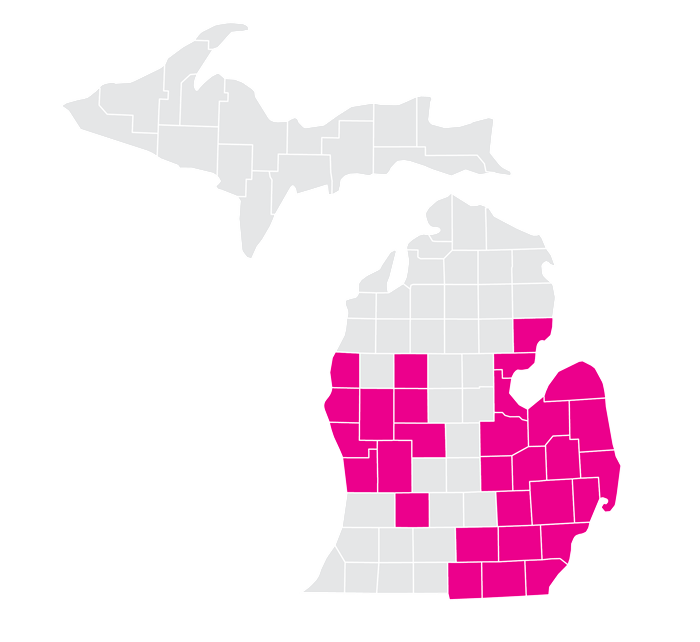 Arenac
Barry
Bay
Genesee
Hillsdale
Huron
Iosco
Jackson
Kent
Lapeer
Lenawee
Livingston
Macomb
Mason
Mecosta
Monroe
Montcalm
Muskegon
Newaygo
Oakland
Oceana
Osceola
Ottawa
Saginaw
Sanilac
Shiawassee
St. Clair
Tuscola
Washtenaw
Wayne
Students away at school program
You can have peace of mind knowing your college students can get care when they need it.
Students ages 17 through 25 who are covered by a parent's plan while away at school will be covered outside of HAP's service area for emergency or urgent care, plus a wide range of non-emergency services (with prior authorization), including:
Routine allergy injections, flu shots and immunizations
Required maintenance visits for chronic conditions, such as asthma or acne
Office visits for a birth control prescription or to continue birth control
Prescription drugs (according to your health plan)
Telehealth services through our HAP Telehealth mobile app, powered by Amwell®
Students Away at School doesn't cover dependent children who live with a custodial parent outside our service area. Costs for care and prescription drugs outside HAP's service area may be higher, so getting care at home is still best.
Urgent Care or ER?
It's important to know the difference between urgent and emergency conditions to make sure you get the right care at the right time. This can save you out-of-pocket expenses and ensure you're treated quickly based on your condition. In most cases it will cost you less out-of-pocket to visit an affiliated urgent care center than an emergency room. Here's a convenient info graphic showing where you should go if you are ill or hurt.
Convenient prescription coverage
To make sure you get quality medications, HAP uses a drug formulary. A formulary is a list of covered drugs and their respective copay tier, selected by HAP in consultation with a team of health care providers.
Here are a few highlights of drug coverage:
Prescriptions available at most major national pharmacy chains and many independent pharmacies
You can also use our convenient mail order pharmacy, Pharmacy Advantage to easily and securely refill or renew your prescriptions at pharmacyadvantagerx.com.
Medications that aren't on our maintenance drug list are generally limited to a 30-day supply or may be approved for a 90-day supply