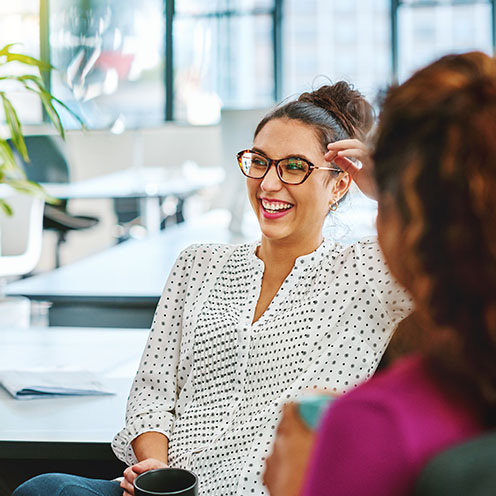 HAP is here with health plans that work harder
94% of current members are satisfied with their HAP coverage.*
See how HAP is here for you.
As your local experts, we're making health insurance as convenient as we can. When you have a question. When you have a problem. When you just need advice, we're here for you. Because as a Michigan-based company, we're not just near you — we know you. Every day, we're collaborating with doctors, hospitals and the community. And as one of the leading integrated health plans in the region, we're constantly finding new ways to streamline your care and cut your costs.
Award-winning customer service
We're committed to providing exceptional customer service. This means your employees get their questions answered faster and more easily. 4 out of 5 report a positive experience with HAP customer service.*
*HAP NPS Member Study, Jan. to June 2023.
Leading doctors and hospitals
We are affiliated with leading hospitals throughout Michigan, with thousands of participating doctors. There's a good chance your employees' doctors are in our network.
HAP makes it easy
The key to a great health plan is it's easy to use. We make our group health plans affordable... and valuable. We provide tools and programs that give each of our members information and care the way they want and need it including: 24/7 digital access, Health Care Cost Estimator and telehealth services.
Learn more about HAP's employee resources.
Worldwide emergency, urgent care and travel assistance
Outside our service areas, HAP members are covered worldwide for emergency and urgent care. HAP's partnership with Assist America also provides members with additional emergency travel assistance, including services for lost luggage, eyeglasses, travel documents, hospitalization, emergency evacuation and more.
Learn more about worldwide coverage benefits.
Employee well-being
With a well-being program focused on helping employees make small behavior changes, we can help your team become healthier and more productive. As a HAP customer, your company can take advantage of a broad range of complimentary services and worksite wellness programs.
Learn more about HAP's employee well-being offerings.
HAP Member Discounts
To make staying healthy more affordable, HAP has discounts. We've partnered with local Michigan businesses so members can save on the following services: fitness, nutrition, wellness and therapeutic services, and savings on local gym memberships. The HAP Member Discounts app will also send members a mobile alert when they are near a discount.
Learn about our HAP Member Discounts program.