DETROIT – Dr. Peter Watson, HAP's vice president of care management and outcomes, has been named the 2018 Michigan Hospitalist of the Year by the Society of Hospital Medicine's Michigan chapter. Watson was honored for his extensive contributions and leadership in hospital medicine and his generosity of spirit in internal medicine.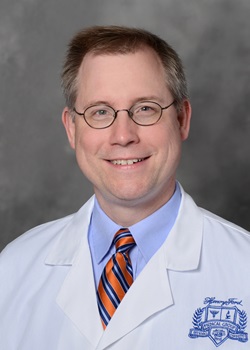 In addition to his role as vice president of care management and outcomes at HAP, Watson also serves as medical director for HAP Midwest Health Plans, a HAP subsidiary. In these capacities, he oversees a team of nurses, social workers and support staff who provide complex care management, disease management and transitions of care for more than 300,000 HAP members enrolled in government and commercial programs.
Prior to joining HAP in 2016, Watson spent nearly 11 years overseeing the Henry Ford Medical Group Hosp italist Program. Since joining HAP, he continues his clinical work as an attending hospitalist for Henry Ford Medical Group.
"I am honored to be a recipient of this award. I've been involved in the Society of Hospital Medicine Michigan chapter since helping found the chapter in 2013, and it's been an important part of my professional development," said Watson. "My work with HAP and Henry Ford Health System has been very rewarding because it continually opens doors that allow me to help others, which is why I chose to practice medicine. I am humbled by this recognition from my colleagues."
Watson is both a Fellow of American College of Physicians and a Senior Fellow in the Society of Hospital Medicine. He is a founding member of the Society of Hospital Medicine Michigan chapter and has been instrumental in the success of the chapter as a board member and a former president. He has extended his service to the Society of Hospital Medicine Michigan chapter by serving on their past president's council and has a long history of leadership within state and national societies. He previously represented the American College of Physicians in the American Medical Association House of Delegates and was an elected trustee of the American Medical Association.
Watson attended medical school at Wayne State University and completed his residency and chief residency in internal medicine at Henry Ford Hospital. He also holds a master's degree in medical management from Carnegie Mellon University.
About the award
The Society of Hospital Medicine is the primary organization dedicated to the hospital medicine movement and promotes exceptional care for hospitalized patients. The Society of Hospital Medicine is the voice of 57,000+ hospitalists and is dedicated to promoting high-quality and high-value health care for every hospitalized patient, advancing the state of the art in hospital medicine through education and research, improving hospitals and the health care community through innovation, collaboration and patient-centered care and supporting and nurturing a vibrant, diverse and multidisciplinary membership to ensure the long-term health of hospital medicine. The Michigan chapter of the Society of Hospital Medicine is one of the largest in the country. Each year, chapter officers select one member who has shown excellence in the field of medicine to receive the Michigan Hospitalist of the Year Award.
About Health Alliance Plan
Health Alliance Plan (HAP) is a Michigan-based, nonprofit health plan that provides health coverage to individuals and companies of all sizes. For nearly 60 years, HAP has partnered with leading doctors and hospitals, employers and community organizations to enhance the health and well-being of the lives we touch. HAP offers a product portfolio with six distinct product lines: Group Insured Commercial, Individual, Medicare, Medicaid, Self-Funded and Network Leasing. HAP excels in delivering award-winning preventive services, disease management and wellness programs, and personalized customer service. For more information, visit hap.org.
###
Contacts:
Noelle Tanner
Health Alliance Plan (HAP)
(248) 443-1076
ntanner@hap.org
Pat Radice
MCCI on behalf of HAP
(248) 321-4651
pradice@mccicorp.com