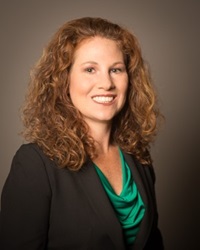 DETROIT – Health Alliance Plan has announced the appointment of Kelly Wright as vice president, consumer operations. In this position, she is responsible for planning, directing and coordinating all activities associated with HAP's consumer operations department, which includes, call center, enrollment and premium billing.
Wright has more than 20 years of experience in the health care industry. She brings the demonstrated ability to increase consumer experience, automate processes, develop and execute long- and short-term strategic plans, increase employee engagement and reduce operating costs for organizations.
"Kelly comes to HAP with a wide range of knowledge and expertise that will benefit our members," said Mike Treash, senior vice president and chief operating officer, HAP. "Her well-rounded skillset will allow HAP to continue to find innovative and efficient ways of interacting with our members, which is important to HAP as we treat each member as the unique individual they are."
Prior to this appointment, Wright served at Aetna in a variety of senior-level positions, including senior vice present of operations in their TPA and payer solutions segment, president of Confinity, vice president of operations and director of operations in the business alliances segment. She was also the director of operations for PPOM.
Wright holds a Bachelor of Science degree in biopsychology from the University of Michigan, as well as a Master of Business Administration degree in finance and quality management from Wayne State University.
About Health Alliance Plan
Health Alliance Plan (HAP) is a Michigan-based, nonprofit health plan that provides health coverage to individuals and companies of all sizes. For nearly 60 years, HAP has partnered with leading doctors and hospitals, employers and community organizations to enhance the health and well-being of the lives we touch. HAP offers a product portfolio with six distinct product lines: Group Insured Commercial, Individual, Medicare, Medicaid, Self-Funded and Network Leasing. HAP excels in delivering award winning preventive services, disease management and wellness programs, and personalized customer service. For more information, visit hap.org.
###
Contacts:
Noelle Tanner
Health Alliance Plan (HAP)
(248) 443-1076
ntanner@hap.org
Pat Radice
MCCI on behalf of HAP
(248) 321-4651
pradice@mccicorp.com