DETROIT – Health Alliance Plan's proficiency in managing the health and wellness of its most vulnerable members has been honored by the Michigan Association of Health Plans. At the 2018 Pinnacle Awards reception in Lansing on Tuesday, Sept. 18, HAP took home two awards for its work in chronic disease management and clinical service improvement, both of which represent HAP's ongoing efforts to help members most at risk of developing serious chronic conditions.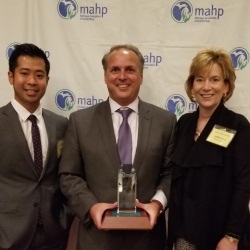 In the Clinical Service Improvement - Commercial category, HAP was recognized for its outstanding work in managing the complex health care needs of premature babies. In the Chronic Disease Management - Medicare category, HAP was honored for its strategies to help women, aged 65 and over, manage the onset of osteoporosis and additional impairments like bone spurs.
"The fine work of HAP's Medical Management team is an extraordinary example of how health plans can collaborate with providers to make meaningful changes in the lives of people with complicated medical problems," said Dr. Michael Genord, chief medical officer, HAP. "The HAP programs selected by MAHP as Pinnacle Award winners illustrate that health care coordination doesn't have to be hard — just strategic."
For 10 years the MAHP Pinnacle awards have recognized the outstanding work of health plans that improve the quality and efficiency of care, help lower health care costs and increase services for Michigan residents.
The Pinnacle Awards judging panel, comprised of health care experts, lawmakers and news media, reviewed submissions in depth before selecting winners in various categories for commercial health insurers and Medicaid health plans.
Detailed information about HAP's award-winning programs:
HAP Improves Care for Women with Osteoporosis
Millions of adults between the ages of 67 and 85 are suffering with osteoporosis. Most are women, many of whom are at high risk for experiencing painful bone fractures. HAP realized that older female members at risk for osteoporosis weren't receiving the best medical outcomes, primarily due to multiple bone fractures.
After investigating, the team learned that educating members about the importance of bone mineral tests and other medical treatments within six months of their initial bone fracture reduced the chance of subsequent bone fractures. As a result of HAP's outreach and educational program, the percentage of women who received the much-needed bone tests more than doubled within a year, providing many more at-risk women with the care they need.
HAP's From first breath to first birthday: Supporting premature and medically complex newborns
In 2016, HAP implemented a Neo-natal Intensive Care Unit Care Management Program to improve health outcomes of premature and medically complex newborns. As its partner in this program, HAP chose ProgenyHealth, a leader in evidence-based care management with extensive experience working with this specialized population. HAP and Progeny worked together to "connect the dots" between families, NICUs and the health plan to improve the medical outcomes of these tiniest members.
This partnership improved the care coordination process, including prenatal engagement, by focusing more attention on medically complex newborns, and providing them and their families with at-home and hospital care from birth to first birthday. Since implementing this program, HAP has seen a decrease in NICU readmissions of 60 percent.


About the Michigan Association of Health Plans (MAHP)
The Michigan Association of Health Plans (MAHP) is an industry voice for 14 health care plans, covering over 2.5 million Michigan residents, and 50 businesses affiliated with the health care industry. MAHP facilitates communication among members, government, and the industry regarding health care issues of common concern. The mission of MAHP is to provide leadership for the promotion and advocacy of high quality, affordable, accessible health care for the citizens of Michigan.
About Health Alliance Plan
Health Alliance Plan (HAP) is a Michigan-based, nonprofit health plan that provides health coverage to individuals and companies of all sizes. For nearly 60 years, HAP has partnered with leading doctors and hospitals, employers and community organizations to enhance the health and well-being of the lives we touch. HAP offers a product portfolio with six distinct product lines: Group Insured Commercial, Individual, Medicare, Medicaid, Self-Funded and Network Leasing. HAP excels in delivering award winning preventive services, disease management and wellness programs, and personalized customer service. For more information, visit hap.org.
###
Contacts:
Ebony Dooley
Health Alliance Plan (HAP)
(248) 443-7847
edooley@hap.org
Noelle Tanner
Health Alliance Plan (HAP)
(248) 443-1076
ntanner@hap.org