DETROIT – Health Alliance Plan ranked highest in member satisfaction among health plans in the Michigan region, according to the J.D. Power 2017 Member Health Plan StudySM.

The study measures satisfaction based on six key factors: coverage and benefits; provider choice; information and communication; claims processing; cost; and customer service. HAP received the highest regional score among participating health plans and excelled in overall customer satisfaction. HAP was the top regional performer on coverage and benefits, cost, information and communication and claims processing. HAP was also ranked first in the region on all brand image metrics.

"We couldn't be happier about Health Alliance Plan's ninth J.D. Power honor," said HAP President and CEO Terri Kline. "At HAP, our goal is to put our members first and our recent J.D. Power member satisfaction ranking is a reflection of these daily efforts to keep our members at the center of everything we do."

The Member Health Plan Study is the result of responses from more than 33,000 members of 168 commercial health plans across U.S. regions between January and February 2017. Respondents are asked to evaluate their experience over the past 12 months.

About J.D. Power
J.D. Power is a marketing, consumer intelligence, and data and analytics company that helps its clients measure, understand, and improve the key performance metrics that drive their growth and profitability. J.D. Power's industry benchmarks, unique data and analytics platform and reputation for independence and credibility has established the company as one of the world's most well-known and trusted providers of Voice of the Customer insights. Established in 1968, J.D. Power is headquartered in Costa Mesa, California, and has offices in North/South America, Asia Pacific, and Europe. For more information on car reviews and ratings, car insurance, health insurance, cell phone ratings, and more, please visit JDPower.com.

About Health Alliance Plan
Health Alliance Plan (HAP) is a Michigan-based, nonprofit health plan that provides health coverage to more than 650,000 members and companies of all sizes. For more than 50 years, HAP has partnered with leading doctors and hospitals, employers and community organizations to enhance the health and well-being of the lives we touch. HAP offers a product portfolio with six distinct product lines: Group Insured Commercial, Individual, Medicare, Medicaid, Self-Funded and Network Leasing. HAP excels in delivering award-winning preventive services, disease management and wellness programs, and personalized customer service. For more information, visit hap.org.


# # #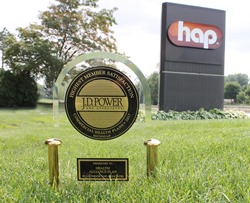 Contacts:
Ebony Dooley
Health Alliance Plan (HAP)
(248) 443‐7847
Rich Donley
MCCI on behalf of HAP
(313) 481-4712