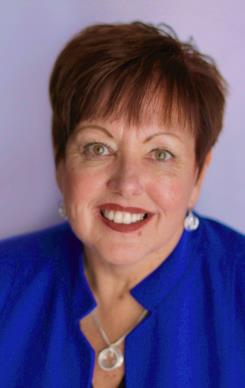 Lansing, Mich - Carrie S. Germain, R.Ph., of Lennon received the coveted Bowl of Hygeia Award during the 2020 Michigan Pharmacists Association (MPA) Annual Convention & Exposition, held Feb. 21-23 at the Detroit Marriott at the Renaissance Center.
The Bowl of Hygeia Award, presented in cooperation with the American Pharmacists Association Foundation and the National Alliance of State Pharmacy Associations, is given to a pharmacist who has made outstanding professional contributions and has participated in community or governmental activities that reflect well on the pharmacy profession.
Germain earned her pharmacy degree from Ferris State University in 1980 where she now serves on the alumni board. She is active in MPA, having served on the executive board member and as Speaker of the House. She has served on the MPA Third Party committee since 1997 and is a past chair of the Michigan Pharmacy Foundation and the Genesee County Pharmacists Association. Additionally, she serves as chair for the Michigan Association of Health Plans (MAHP) Pharmacy Directors committee, is a member of the MAHP Medical Directors committee and chairs the Michigan Medicaid Drug Utilization Review Board. Germain has served on various committees of the Greater Flint Health Coalition including the Pharmacy Task Force, Quality and Innovation Task Force and the Mental Health & Substance Abuse Task Force.
In addition to Germain's involvement with MPA, her community involvement includes serving as a volunteer and board member at a free clinic, serving as board of education president for her local school district, coordinating health fairs, event planning and with her husband, Rick, sponsoring the MSU Spartan Marching Band Altos and Friends tailgate.
Germain has received several honors for her work in the pharmacy profession as well as in the community. Her honors include, YMCA Nina Mills Women of Achievement Award, Norwegen Pine District Scouting Award of Merit, Michigan Pharmacists Association Executive Board Service Award, Michigan Pharmacists Hall of Honor Inductee, Health Access Community Caring Award, Swartz Creek Woman of the Year, HealthPlus Leadership that Lasts Honoree, Ferris State University Distinguished Alumni Award, Fellow of the Michigan Pharmacists Association and Michigan Pharmacy PAC Hank Fuhs Good Government Award. Most recently, in 2019, Germain was awarded the Clement A. Alfred Humanitarian Award from the Community Foundation of Greater Flint due to her commitment to professionalism, integrity and humanitarian goals.
Currently, Germain, R.Ph. is Senior Director of Performance Improvement and Management of HEDIS, Medicare Stars and Reporting for Health Alliance Plan (HAP). Her diverse pharmacy experience includes community practice, managed care and prescription benefit management. For over 25 years, she provided strategic leadership for the HealthPlus in-house pharmacy benefit management program. In her current role, Carrie is a strategic leader for innovative programs that improve clinical quality improvement, member experience and provider engagement.
Michigan Pharmacists Association, representing the nearly 9,000 pharmacists and 15,000 pharmacy technicians, strives to serve members by providing support, advocacy and resources that ultimately improve patient care, safety, health and the practice of pharmacy. For more information, visit www.MichiganPharmacists.org.
Contact: Jamie James, MPA communications manager
Jamie@MichiganPharmacists.org; (517) 377-0232