Talk to a doctor online, anytime, from anywhere
Your schedule and your family's routine likely look a bit different in light of COVID-19 safety guidelines. But just because your day-to-day is different, it doesn't mean your quality of health care should be.
Telehealth (also called virtual care, video doctor, doctor on demand, telemedicine, e-visit, e-health, etc.) helps you talk to or 'see' a doctor over video chat 24/7 without leaving home.
Visits are affordable, easy, convenient and safe. You don't need to make an appointment in advance.
Telehealth is an important tool to stop the spread of COVID-19. If you have symptoms such as a cough and a fever, the online doctor will first help you determine your risk. They'll then discuss testing and treatment options.
Board-certified telehealth doctors can also help treat health issues like:
Cold and flu
Headache
Sprains and strains
Rashes
Sinus infections
Pink eye
Other minor health issues
Behavioral health and autism professionals have started offering telehealth services, too. If you have increased worry, anxiety or depression and need to talk to someone, you can get care from the comfort of your home.
Want to get started? Need virtual care now?
Here's how:
Call your doctor or talk to them online.
Many doctors and behavioral health professionals are giving care virtually because of COVID-19. You can access care from your phone, tablet or laptop. Talk to or 'see' your doctor through a telehealth visit.
It's best to start with your doctor. You already have a relationship with them. And they know your medical history and can coordinate your care.

HAP is waiving cost-sharing and offering a $0 copay on telehealth visits until June 30.
Self-insured employer group customers control their own health benefits and HAP is working with its self-insured customers to determine how they'll cover telehealth services.
Use Amwell to talk to a doctor online
HAP employer group, individual and Medicare members can also see a doctor online thanks to our partnership with Amwell®. Talk to or 'see' a board-certified doctor any time of the day or night, 24/7, without scheduling an appointment.
Amwell can't be used for behavioral health services at this time. If you're a HAP member and need someone to talk to, call HAP's Coordinated Behavioral Health Department at (800) 444-5755.

HAP is waiving cost-sharing and offering a $0 copay on telehealth visits until June 30.

You must enter the HAP service key (HAPMi) during Amwell registration.
How do I use Amwell?
Amwell is HAP's partner in telemedicine with 24/7 access to doctors. To access Amwell:
Download the Amwell: Doctor Visits 24/7 iOs or Android mobile app or visit amwell.com
Enter your information and click "Sign Up."
When prompted for a service key, use: HAPMi. If this code isn't entered, you may be charged.
Once in the Amwell app, select "Get Started." You can then choose from available providers.
NOTE: as long as you enter the HAPMi service key, the $59 Visit Copay (as seen in this screenshot) will be waived ($0) at the end of your visit.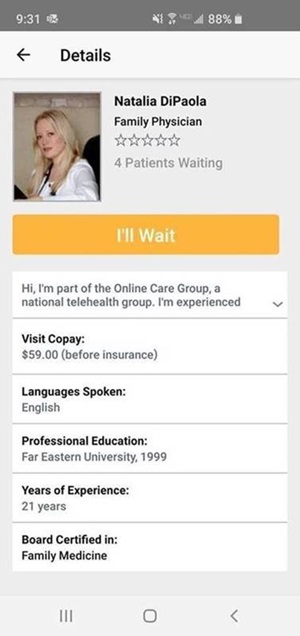 This option is available to all HAP members, except Medicaid members.
Call your health system's COVID-19 hotline
Many health systems have patient hotlines for questions and concerns about COVID-19. For your safety and the safety of others, try and use a virtual method first before going to a health care facility. This includes the emergency room, urgent care or a walk-in clinic.
If you have a symptom, sickness or health question, start a virtual visit with your doctor or use a telehealth service like Amwell. It's the safest way to get care and protect yourself and others while at home.
Last Updated: May 15, 2020
Categories:
Get Healthy