Try These 10 Low-Carb Snacks for Your Next Snack Attack
Hungry? While it's easy to pick up a pre-packaged snack from the vending machine, it probably won't provide you with the right kind of nutrition to fuel you until your next meal. A great snack offers a balance of nutrients that supply energy: carbohydrates, fat and protein. That combination will not only help you feel full, but it'll also help keep your blood sugar in check.
The next time you're craving a snack, resist the temptation to grab that candy bar and instead try one of these lower-carb snack ideas.

Cottage Cheese, Pears/Peaches and Walnuts
Top 1/2 cup 2 percent cottage cheese with 1/2 cup canned, diced pears (or peaches) packed in 100 percent juice, and 4 chopped walnut halves.
Guacamole with Bell Pepper Dippers
Enjoy 1/4 cup guacamole topped with 1 teaspoon salted pepitas (pumpkin seeds). Serve with 1 cup sliced bell peppers.

Lime and Parmesan Popcorn
Place 2 cups of freshly popped, air-popped popcorn in a bowl. Spray lightly with non-stick cooking spray then add the zest of half a lime (about 1 teaspoon), a pinch of salt, 1 tablespoon of grated parmesan cheese and a dash of chili powder. Stir thoroughly to mix.

Classic Apple and Peanut Butter
Slice one apple and top with 1-2 tablespoons peanut butter or other nut/seed butter of your choice.

Hard-Boiled Egg and Sriracha on a Pepper Boat
Slice 1 hard-boiled egg into quarters and season to taste with salt and pepper. Core a red bell pepper and cut into four planks. Place eggs on planks and drizzle with sriracha or other hot sauce.
Avocado Hummus and Veggies
Mash 1/4 of a ripe avocado and mix in 2 tablespoons hummus. Serve with 1 cup baby carrots (or other veggie of your choice) for dipping.
Celery Sticks, Ricotta and Seeds
Spread 3 tablespoons whole milk ricotta among four celery stalks. Sprinkle tops with 2 tablespoons sunflower seeds.
Bean and Salsa Lettuce Wraps
Spread 2 tablespoons canned black beans, drained and rinsed, down the center of two large lettuce leaves (Bibb or Romaine lettuce work well), top with 2 tablespoons shredded cheddar cheese and garnish with a drizzle of salsa. Wrap up and enjoy.

Yogurt, Almond Butter and Berries
Place 1/2 cup plain, low-fat yogurt in a small bowl. Top with 1/4 cup mixed berries (unsweetened, frozen or fresh), then drizzle with 1 tablespoon almond butter.

Zesty Zoodles, Feta and Walnuts
Prepare 2-1/2 ounces of zucchini "noodles" then toss with 1 tablespoon vinaigrette salad dressing, 2 tablespoons chopped walnuts and 2 tablespoons crumbled feta cheese. Add a sprinkle of Italian seasoning, if desired.
Want more healthy eating ideas? Give these a try:
Stock your fridge with these snacks so you have something healthier to reach for when you just want to snack!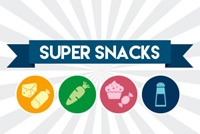 Eating healthy snacks is just as easy as eating junk food. Rather than grabbing that bag of chips, try one of these.
Categories:
Get Healthy