Gift of a Lifetime: How a Kidney Transplant Redefined a Friendship Forever
"If you need my kidney, you can have it." James Boyette didn't hesitate when he learned the details of friend Alejandro's health.
The 23-year-old Alejandro Hortet had recently visited the student health clinic at Boise State University after being told his blood pressure was too high to give blood. He told the doctors he often felt sick to his stomach and had lost some weight. They ran some tests and scheduled an appointment for 4:00 p.m. that afternoon to give him the results. But he was gone only a couple hours when the clinic called and told him to return at once.
Alejandro's creatinine level, a marker for kidney disease, was "off the charts," he recalls. "Normal is around 1 milligram per deciliter, and mine was 26," he says. "The doctors were surprised I was able to walk and talk normally. They said I should be in the ground."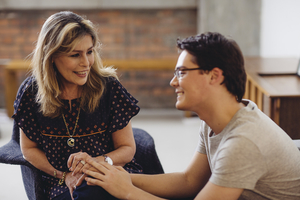 Alejandro spent the next seven days in the hospital receiving dialysis. Doctors explained that he would need a transplant. The bad news left him wondering how he was going to graduate from college and start his new engineering job in Detroit in a month. When James offered his kidney, Alejandro didn't quite believe him. "I said thank you, I appreciate it, but right now I'm trying to figure out how to get to Michigan. But James kept checking up on me and saying he was willing to give me his kidney. It became evident he was serious," Alejandro says.
Alejandro and James had been friends since Alejandro was an exchange student from Colombia at James' high school in Boise, Idaho. When Alejandro returned to attend Boise State University, they reconnected, even rushing the same fraternity. Still, Alejandro wasn't ready for the commitment James showed over the next months. Between May and October, James made three visits to Detroit, traveling on his days off from work – twice for testing and finally for the surgery. James, whom Alejandro describes as "very loyal," wasn't nervous about the surgery, except for the chance that he wouldn't be a match. "The waiting list for kidney donors is two to three years, so I wanted to make sure it worked out," says James.
And work out it did. In a stroke of good luck, the doctors told James he was cleared to donate his kidney to his friend.
With the transplant procedure looming, Alejandro's health care coordinator asked him if he was interested in a new type of robotic surgery that Henry Ford Hospital was using for kidney transplant recipients. Henry Ford Transplant Institute surgeons had recently begun using the DaVinci robotic transplant to insert and attach a kidney for recipients. Traditional kidney transplants require an 8-inch incision, but robotic kidney transplant creates just a 2-inch incision and four punctures in the abdomen for the robotic arms, explains Dr. Atsushi Yoshida, a Henry Ford transplant surgeon. It was Yoshida who used the DaVinci system to place Alejandro's new kidney. The procedure is more comfortable for the patient and cuts down on recovery time.
All of this sounded great to Alejandro. With a bachelor of arts in mechanical engineering and a minor in biomedical engineering, he was more than interested in the technology. "I told my coordinator, 'As long as I get to see the machine, I'm okay with it.' " The surgery went well, and after two days in the hospital, James was released; Alejandro went home the day after that. Both returned to work within a couple of weeks.
With the surgery in the past, Alejandro says he "feels like a different person." He and his mom, Helena Covelli, are eager to return to his hometown of Medellin, Colombia, to visit his father and older brother. "The moment [the doctors] tell me yes, I'm taking time off to go home," he says. And he's taking James with him. "Next Christmas, we're flying James to Colombia to spend the holiday with us. He's like a brother now," says Alejandro. "He's part of our family."
Categories:
Get Healthy