How HAP's 5K Challenge Changed One Man's Life For Good
Not long ago, the idea of finishing a 5K race would have never occurred to Larry Smith, 58. The retired civil rights director for the UAW walked for an hour several times a week. He also monitored his blood sugar regularly to keep his diabetes in check. At 5 feet 9 inches and 210 pounds, Larry knew his doctor wanted him to lose weight. But despite a healthy diet, Larry just hadn't been able to shed the excess pounds.
Today, Larry has a new waistline to go with his new identity as a runner. The Beverly Hills resident runs 15 to 18 miles a week and has completed two 5K races.
His inspiration? HAP's 5K Challenge. Here's how this innovative program propelled Larry from walker to runner in just nine weeks – and how you can, too.
Taking the challenge
Larry learned about the program when he attended a dinner sponsored by HAP in March 2016. "It was a free dinner and an outing at a restaurant I'd always wanted to try," he says with a laugh. "But they were also going to talk about the HAP 5K Challenge, and I'd always wanted to run a 5K."
The HAP 5K Challenge is designed for people who are currently getting little or no exercise. You walk and jog for just 30 to 40 minutes a day, three days a week, for nine weeks. At the end of that time, you're ready to complete your first 5K – a 3.1-mile race. (As with any new exercise plan, it's important to get your doctor's okay before you start.)
Larry accepted the challenge but, honestly, wasn't sure at first whether he'd complete it. "The first two weeks, I wanted to quit. I thought there was no way I would be able to do the program," says Larry. "I couldn't run for 30 seconds!" He started by alternating brief periods of running with walking. Four weeks in, he ran a quarter mile without stopping and continued to increase the length of his runs.
"When I ran my first mile, it was jubilation," he says. "I told my wife, 'I ran a mile without stopping!' " He grew more confident in his ability to complete the program and just kept going, even during a three-week vacation in Florida. "I looked for a YMCA down there so I could train over vacation," he says. "On the drive down, I was on the hotel treadmill at 6 a.m. to get my training in."
Support made a difference
While Larry trained alone, he says support from the program kept him going. "The weekly communication from HAP was phenomenal," he says. "The weekly emails encouraged you and let you know what you should be doing." He and the other participants – about 300 signed up for the 5K – also used an online training program to log their miles, ask questions about training and connect with other runners.
"It became a friendly competition – you didn't want to lag behind anybody," he says. "That was a huge key to my success." Inspired, he ramped up to training five days a week. He walked and ran countless steps and placed in the top five of participants at the end of the program. And in June 2016, Larry ran his first 5K race.
Running off the weight
As someone with Type 2 diabetes, Larry knew physical activity would help control his blood sugar. But he didn't realize his new hobby would also help him lose weight. "I'm now 192 or 193 pounds," he says. "I've dropped two pants sizes."
He's impressed his doctor. "I'm finally in my normal weight range. I've always tried to eat right but the running was the missing piece." Larry's doctor also is changing his medication to reflect his improved health.
Larry is still running – using the HAP program and a 5K app on his smartphone to stay on track. "I run about 15 miles a week now," he says. "If there were a 5K tomorrow, I could run it without thinking about it. Running is a part of my lifestyle now."
Larry says he enjoys both the physical effort and the mental release of training. "Running takes you to another place in your mind," he explains. "My wife says I'm hooked. My body wants to run. I'm getting close to hitting my 60s, but I feel like I'm in the best shape of my life. I wish I would have done this 15 years ago."
He says the HAP 5K challenge is a great way to launch a running program. "If you follow the program, you can reach your goals. You can achieve it and the benefits are huge."
Why men need to go to the doctor
Input from Larry's doctor was critical as Larry set off on this lifestyle change. While we know it might be low on your to-do list, it's important to see your doctor regularly – even when you feel perfectly healthy. Conditions like high blood pressure, high cholesterol and high blood sugar often have no symptoms. Checkups every year or two can spot these silent health issues. That way, you can address and treat them before they develop into more serious health problems.
For more information and training resources, go to hap.org/5K.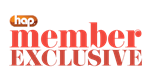 Take
HAP's 5K Challenge
– our training program that gets you going from little or no exercise to running 5 kilometers (3.1 miles) in just nine pain-free weeks. At the end of the challenge, join us at one of these races and get a discount on your race registration:
•
Oak Apple Run
in Royal Oak on June 3
•
Atwood Stadium Races
in Flint on July 22
•
HAP Crim Festival of Races
in Flint on August 26
•
Pulse Run for Your Heart
in Saginaw on September 9
•
Trick or Feet
in Northville on October 8
•
Weekend Warrior Runfest
in Shelby Township on October 8
To get your discount code and register, follow these steps:
1. Log in to your
hap.org
account.
2. Click on "My Health and Wellness" then "Member Events."
3. View the list of races and discount codes.
4. Sign up for a race.
Categories:
Get Moving