Welcome to MI Health Link
Connecting Medicare and Medicaid into one easy plan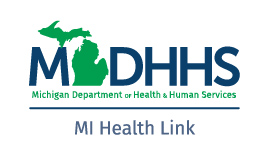 What if you could get all the help you need for your health plan – all at once?
Now you can.
HAP Empowered MI Health Link helps people eligible for both Medicare and Medicaid. It brings together your services into one plan, one card and one care coordinator.
You'll enjoy single plan coverage for:
Medical care
Behavioral health care
Home and community-based services
Nursing home care
Medications
It's for Michigan adults:
21 or over
Enrolled in both Medicare and Medicaid
Living in Macomb or Wayne county
Download the HAP Empowered MI Health Link member handbook
Care coordination is a key benefit of MI Health Link. A care coordinator gets to know you and helps create a personal care plan based on your goals. The care coordinator connects you to supports and services to be healthy and live where you want.
You can still get care before, during and after an emergency or disaster. HAP Empowered MI Health Link (Medicare – Medicaid Plan) has an emergency plan to make sure you are always covered.
Looking for a doctor?
Use our search tool to find a doctor, dentist or a hearing provider
HAP is here, with virtual classes to help older adults thrive
Michiganders are spending more time at home. That means some older adults could need technology or social support. We're working with the Michigan Department of Health and Human Services (MDHHS) and the Michigan Health Endowment Fund to help
GetSetup is a free and interactive program for older adults. It has over 150 online classes taught by retired educators. GetSetup is a safe place for older adults to hangout, learn, teach and connect with peers.
Any changes in phone number, email, or address should be reported to the Michigan Department of Health and Human Services (MDHHS). You can do this by going to the MIBridges website at www.michigan.gov/mibridges. If you do not have an account, you will need to create an account by selecting "Register". Once in your account, when reporting changes, please make sure you do so in both the profile section and the Report Changes area. The Report Changes area is what the local office will use to update the address for your case.