COVID-19 business resources
COVID-19 business resources
HAP is here, supporting businesses during this unprecedented and uncertain time.
We're here to answer questions and provide support as you determine your next steps for your business and employees. We understand the concerns you are facing and we'll work with you to determine the best course of action.
Legislative Information
The Coronavirus Aid, Relief and Economic Security (CARES) Act is a $2.2 trillion stimulus package approved by Congress in response the COVID-19 pandemic. It is aimed at helping individuals and families, employers, health care providers and state and local governments during these difficult times.
What it means for businesses:
Paycheck Protection Program: this program incentivizes employers to retain employees and certain other expenses during the COVID-19 pandemic. The U.S. Small Business Administration (SBA) will forgive loans if all employees are kept on the payroll for eight weeks and the money is used for payroll (including benefits), rent, mortgage interest or utilities.
Economic Injury Disaster Loan Program: the Economic Injury Disaster Loan program provides long-term, low-interest loans to small businesses and nonprofits to meet financial obligations and operating expenses that could have been met had the COVID-19 pandemic not occurred.
Expanded Unemployment Benefits: unemployment benefits are expanded to include self-employed, 1099-independent contractors, and low wage workers. Weekly unemployment pay has also been boosted under the CARES Act.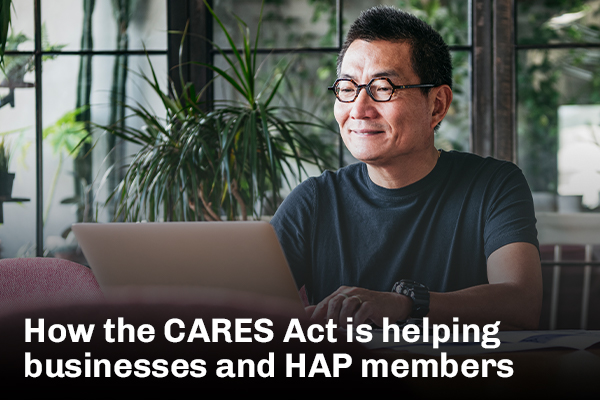 These organizations outline the national and state resources available to businesses during the COVID-19 pandemic.
For additional information on community resources available for individuals, families and businesses, read Need Support Through the COVID-19 Pandemic? These Community Resources Could Help .
Return to Work Startup Guide
While business as usual may never completely go back to the way it was before the COVID-19 crisis, Henry Ford Health System and HAP are collaborating to help you through it.
The HFHS Return to Work Startup Guide provides a basic road map that'll help you safely reopen your organization, business or company.

You'll learn:
How to set up an employee and visitor screening process.
What tools, materials, and human capital are needed.
What infrastructure is needed to successfully operationalize this process.
How Henry Ford Health System can help your company with testing, training and more.
Return to Work Navigator Program
The HFHS COVID-19 Return to Work Navigator Program is a simple, convenient, frictionless process to manage team members who require a COVID-19 assessment and follow-up.

You'll get:
One number for employees to call when they become symptomatic.
Secure video visit with a Henry Ford doctor accessed from mobile device.
Access to quick and convenient Henry Ford drive through testing centers.
Results communicated within 24 hours via secure mobile application (MyChart).
Case management support to return employees back to work per our medical opinion.
Frequently Asked Questions